Annual calendar mailing for Simavi
The 19th of November is World Toilet Day. Simavi donors receive the calendar mailing that same day. The 2022 calendar features beautiful photographs of women and girls who have access to clean water and safe toilets – thanks to donors.
A mailing with a long-term success record
For Simavi, our goal is to surprise donors throughout the year with various types of mailings that (naturally) align with Simavi's positioning. The calendar mailing is a successful annual mailing with an excellent ROI that also gives us the opportunity to give something back to donors for their support. And research shows that reciprocity translates into a higher retention rate.
Contents of mailing package
Calendar
C4 envelope
Combola (letter with bank account details)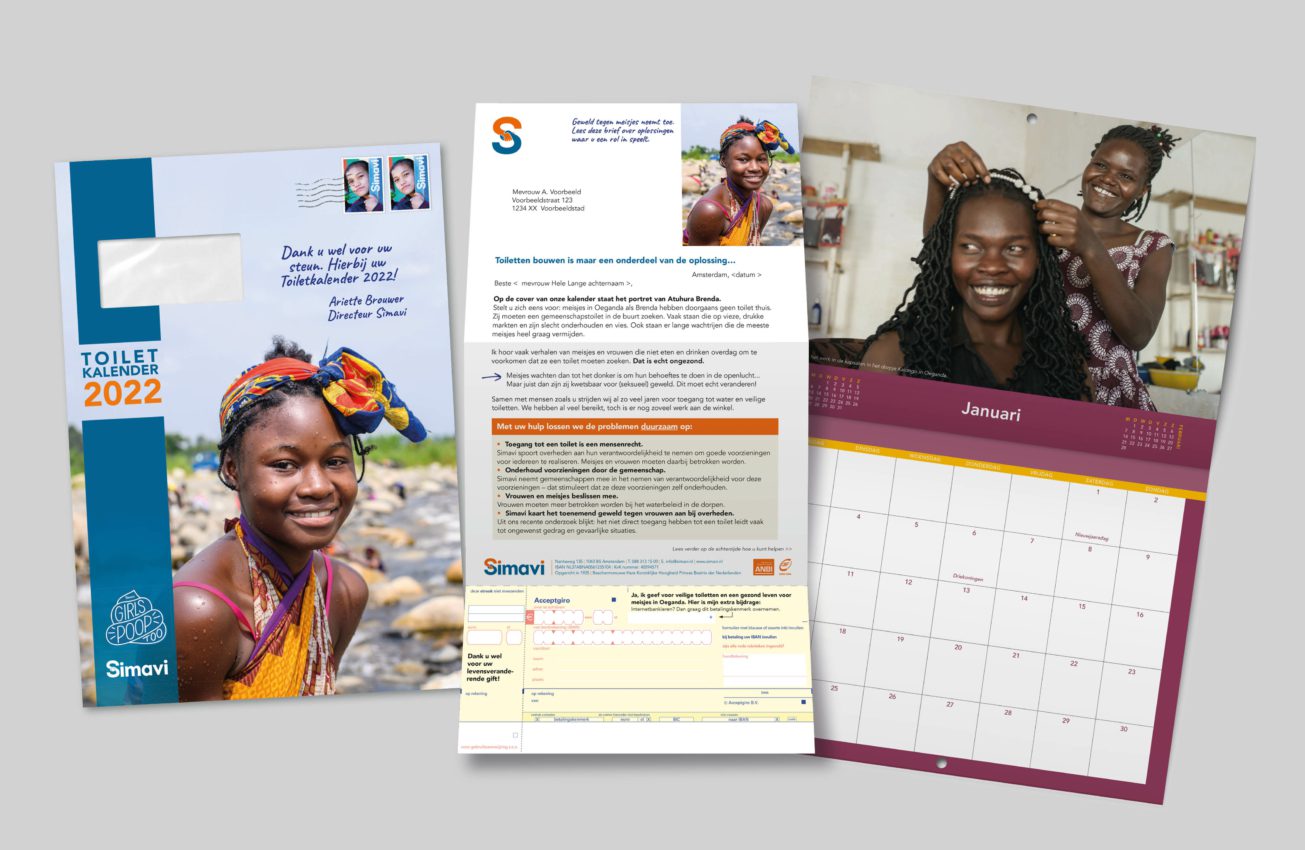 World Toilet Day
On World Toilet Day, the spotlight is on the worldwide shortage of sanitation facilities and its impact.
A safe and clean toilet is a human right, but not widespread in such countries as Uganda, Nepal, India and Bangladesh. Worldwide, 4.2 million people do not have access to a safe toilet. This is particularly problematic for women and girls. During menstruation, they cannot go to school or work if there is no toilet there. And they are especially at risk of sexual and other violence if they do not have a safe place to go to the toilet. In addition, illnesses spread more easily without hygienic sanitary facilities.
Mindwize and Simavi
Since 2013, we have been passionately working with Simavi on private fundraising efforts. Our coordinated approach has developed and evolved over the years. Whereas Mindwize was previously responsible for the management and implementation of the overall fundraising programme, Simavi has now assumed the managerial role and advises and facilitates Mindwize. Simavi uses the Mindwize CRM application, campaign management system, form module, reports and dashboarding. Simavi and Mindwize jointly develop the annual direct mail plan, with Mindwize assuming responsibility for the creation, procurement, production and sending of the mailings.
About Simavi
Since 1925 Simavi has been committed to facilitating clean water and better sanitation in countries where this is less common than in the Netherlands. Simavi works to improve the daily lives of women and girls in ten African and Asian countries. Empowered women and girls not only improve their own situation, but also that of those around them.
More information can be found on the Simavi website.
Get more out of your fundraising campaigns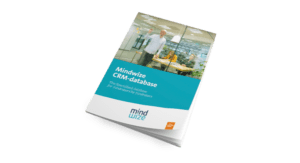 A high-quality donor database is essential for donor recruitment and retention. This serves as the basis for developing campaigns with an impact and helps you build better relationships with your donors. Mindwize has its own CRM product that is used by Simavi, while Simavi remains the owner of its donors and donor data.
Download the brochure on the Mindwize CRM database and read about its 5 powerful benefits!
Interested in more information on this campaign or a calendar mailing for your organisation? Contact us! 
Would you like more information about this campaign or about a calendar mailing for your organisation?
Please contact us!