Sign up for our e-mail newsletter and get:
An email every month with:
– Tips to raise funds more effectively
– Whitepapers on research
– Invitations to events and free webinars
– Inspiring case studies
And get the 99 tips for more donations in your mailbox for free!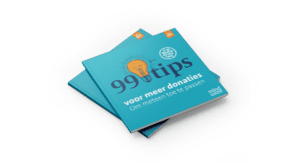 Privacy statement
By entering your e-mail address, you consent to the processing of your e-mail address upon registration. You can always withdraw your consent by unsubscribing from the newsletter on our website. View our privacy statement here.