Annual Fundraising Campaign
Join the fight against childhood cancer: support the 2021 campaign
The Stichting Kinder Kanker Genezing annual fundraising campaign is an appeal to donors to join the fight against childhood cancer. The foundation uses this fundraising campaign to ask for annual contributions. Every donation helps and is desperately needed, because in a poor country less than 20% of these young patients will be cured. The main cause is a lack of medical care.
Campaign resources
Mindwize takes care of the campaign's direct mail and telephone recruitment. The foundation also highlights the campaign in its email newsletter and on its website. The campaign message is further reinforced by the fact that World Cancer Day (4th February) and World Children's Cancer Day (15th February), both fall within the campaign period.
The campaign
The annual fundraising campaign has been a successful campaign for many years now. This year it is centred around the story of Elvianis (6), from Venezuela. She is one of many children needing support in her fight against cancer. The chance of being cured can't be taken for granted by children with cancer in developing countries. In many poor countries, medicines and hospital treatment are a luxury well beyond the means of parents of children like Elvianis.
We ask recipients to join the fight against childhood cancer by supporting the campaign in their own town or city. To thank donors for their help, their letter comes with a cheerful sheet of personalised address stickers.
The aim of the campaign is to raise as much money as possible for children with cancer in developing countries. The campaign also ensures that we keep the donor database active and reactivate donors.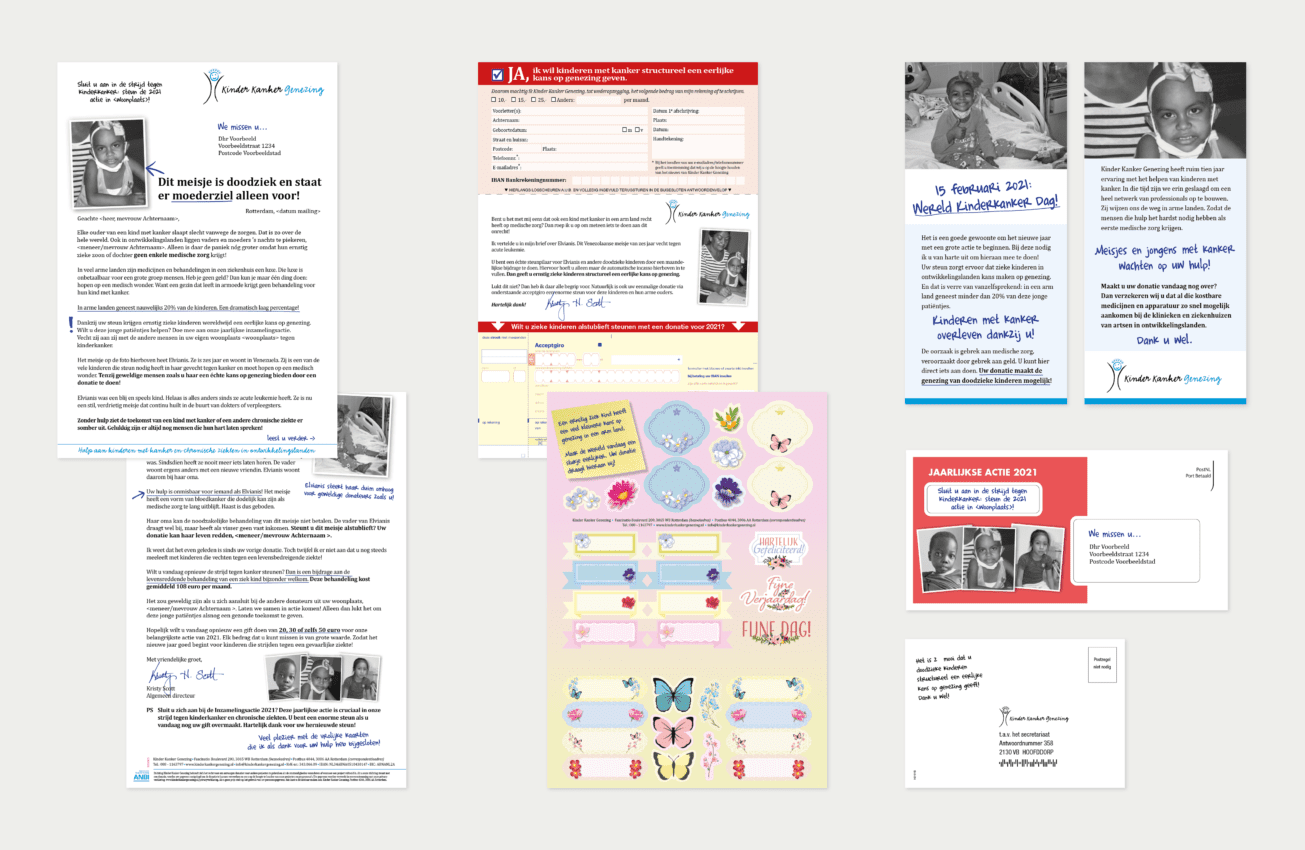 Stichting Kinder Kanker Genezing (KKG)
KKG is committed to help children with cancer and other chronic diseases in developing countries. In the first instance through life-saving medical help for the sick child. However they also offer family support.

About Mindwize
We help charities and non-profits to more and better donors through appealing campaigns and sophisticated data analyzes. We encourage people to take action. We provide more donations and build valuable relationships. With more than 25 years of experience, we know what works to achieve the best results so that your organization can make the world a bit more beautiful.