Campaign for #GivingTuesday
For the Dutch Thrombosis Foundation, we created a Facebook campaign to synchronize with Giving Tuesday 2020 (December 1st). The call-to-action was: Do you know someone who has (had) thrombosis? Give them a helping hand and enter to win a gift package for yourself. #GivingTuesday
The campaign was rolled out in the week leading up to December 1st. By making just a few adjustments, we can keep using the Facebook ad after GivingTuesday, too.
The Campaign
Moving images are very effective on Facebook. We developed multiple images in sequence.
First you see wrapping paper with a pattern of red drops. The paper then turns into a wad and the blood drops come together on the side of the wad. This illustrates how a blood clot forms. Behind the wrapping paper you see a cozy photo of a child with an adult – a grandpa or grandma – 'a potential family member.' Then a label is dangled across the image with the words: Who will you be giving to in a week / today / on December 1st?
Teaser
We placed a teaser on the Thrombosis Foundation's Facebook timeline in advance. We made a filter out of the wrapping paper with red drops that people could "paste" over their photo.
Resources deployed
Watch the animation we made for the Thrombosis Foundation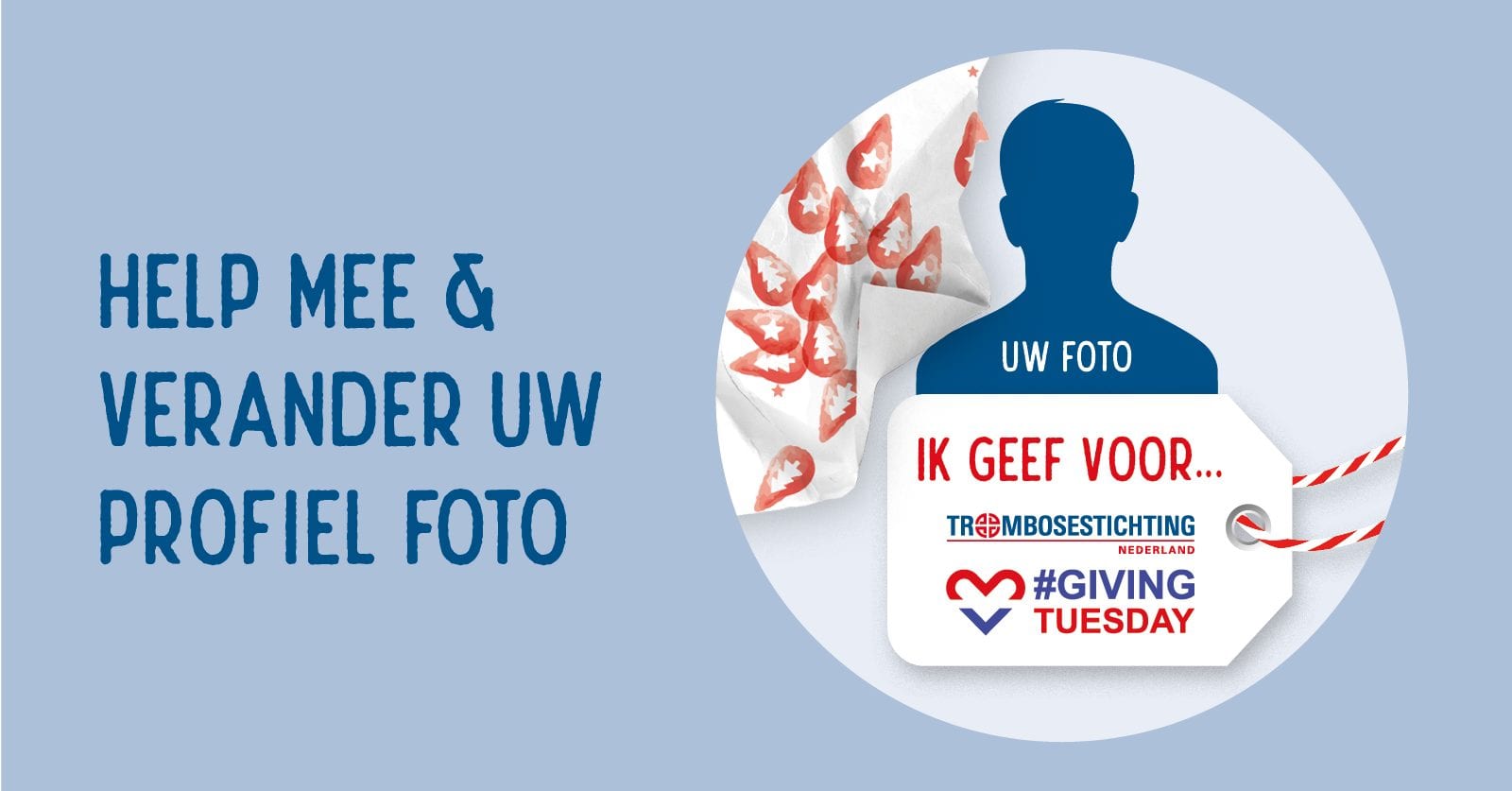 Facebook Timeline cover 1 december

Examples of Facebook posts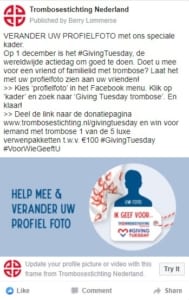 Preview profile picture on Facebook

Dutch Thrombosis Foundation
The Dutch Thrombosis Foundation is dedicated to a thrombosis-free future. By providing clear educational information, they reduce the risk of thrombosis. The Dutch Thrombosis Foundation funds research into the development of better medication and treatment for thrombosis. In this way, they are helping people with thrombosis live better lives.
Every hour 11 people in the Netherlands develop a thrombosis! For example, in an arm, leg, lower abdomen or in the lungs. As many as 40 people per day, die as a result of thrombosis. This has to stop! More research is needed to reduce the number of thrombosis patients and we can help the Dutch Thrombosis Foundation with this goal!

This is how you effectively deploy lead generation
Learn from three real-life examples
Today, you watch a video on Facebook about animal suffering. Tomorrow, you'll see an ad for an animal rights charity to sign a petition, download a brochure or take a quiz – something the organization can use to get your contact details. In this way, you have become a lead. The charity can contact you with a request, an offer or a service.
In this whitepaper, we will highlight a few real-life examples of online lead generation for you.