A Bloodcurdling Story – Dutch Thrombosis Foundation
On World Thrombosis Day 2020, we launched the bloodcurdling story 'Bad Blood.' A free thriller written by bestselling author Linda Jansma. This was the first stage of an attention-grabbing online campaign to recruit donors to fund improved research into pulmonary embolisms.
How can we reach the target audience online
Each year, the Thrombosis Foundation launches a big campaign in honor of World Thrombosis Day (October 13th). Until now, traditional media were deployed, such as TVC and billboards.
Because their target group (50+) are spending more time online, we wanted to do things differently.
This year, the focus was on pulmonary embolism, which is thrombosis in the lungs, and in particular, the difficult rehabilitation after a pulmonary embolism. Little research has been done on recovery, which means that many patients suffer for a long time even though their experience could be improved.
Our challenge was two-fold:
How do we reach the older target group online?
How do we tell them the whole story in a short space of time using a medium that makes you fight for attention?
We wanted to reach a wider group than only those who are thrombosis patients. We wanted the entire country to know that every hour someone develops pulmonary embolism, which leads to trouble breathing, and that research is urgently needed to improve the recovery phase for patients following such an embolism.
The campaign
We needed something simple that would quickly capture people's attention. And then move on to telling the story step-by-step.
On World Thrombosis Day 2020, we launched the bloodcurdling story 'Bad Blood.'
A blood-curdling trailer video, where the pages of the book seemed to come to life, was used to garner attention on social media. With a call to action announcing "a breathtaking thriller that you won't be able to put down," we promised a breathtaking revelation in the bloodcurdling story every hour. We used a service that lets you receive a portion of an audiobook every hour via WhatsApp.
In order to keep it as accessible as possible for everyone, it was also possible to receive the entire story as e-book or audiobook.
Every request immediately received the opportunity to make a donation. After just one day, this resulted in more than one hundred donations.
The Email Journey
After downloading the story, we deployed an "email journey," which takes the reader along step-by-step in the breathtaking effects of a pulmonary embolism and the need for further research into better patient rehabilitation.
Bloodcurdling excitement is great in stories.
But in real life a blood clot can have life-threatening consequences.
The question asking for a donation was phrased in an increasingly powerful tone in each email.
After several days, those who requested the story were called by phone to ask whether they thought it was interesting – to start a conversation and then carefully ask for a donation.
Resources deployed
One landing page: bloedstollendverhaal.nl
Three follow-up emails
WhatsApp service
Google advertising campaign and optimization
Facebook advertising campaign and retargeting campaign and optimization
Instagram advertising campaign and optimization
Collaboration with influencers
Filler ad campaign
Telemarketing
Watch the video we made for Thrombosis Foundation Netherlands
Examples Google ad campaign and optimalisation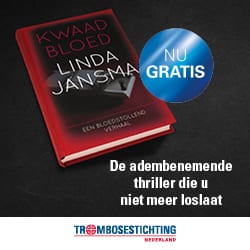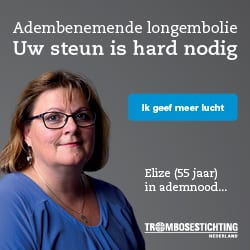 Examples online Stop ad campaign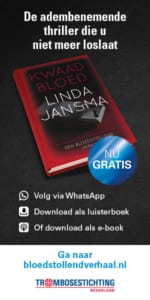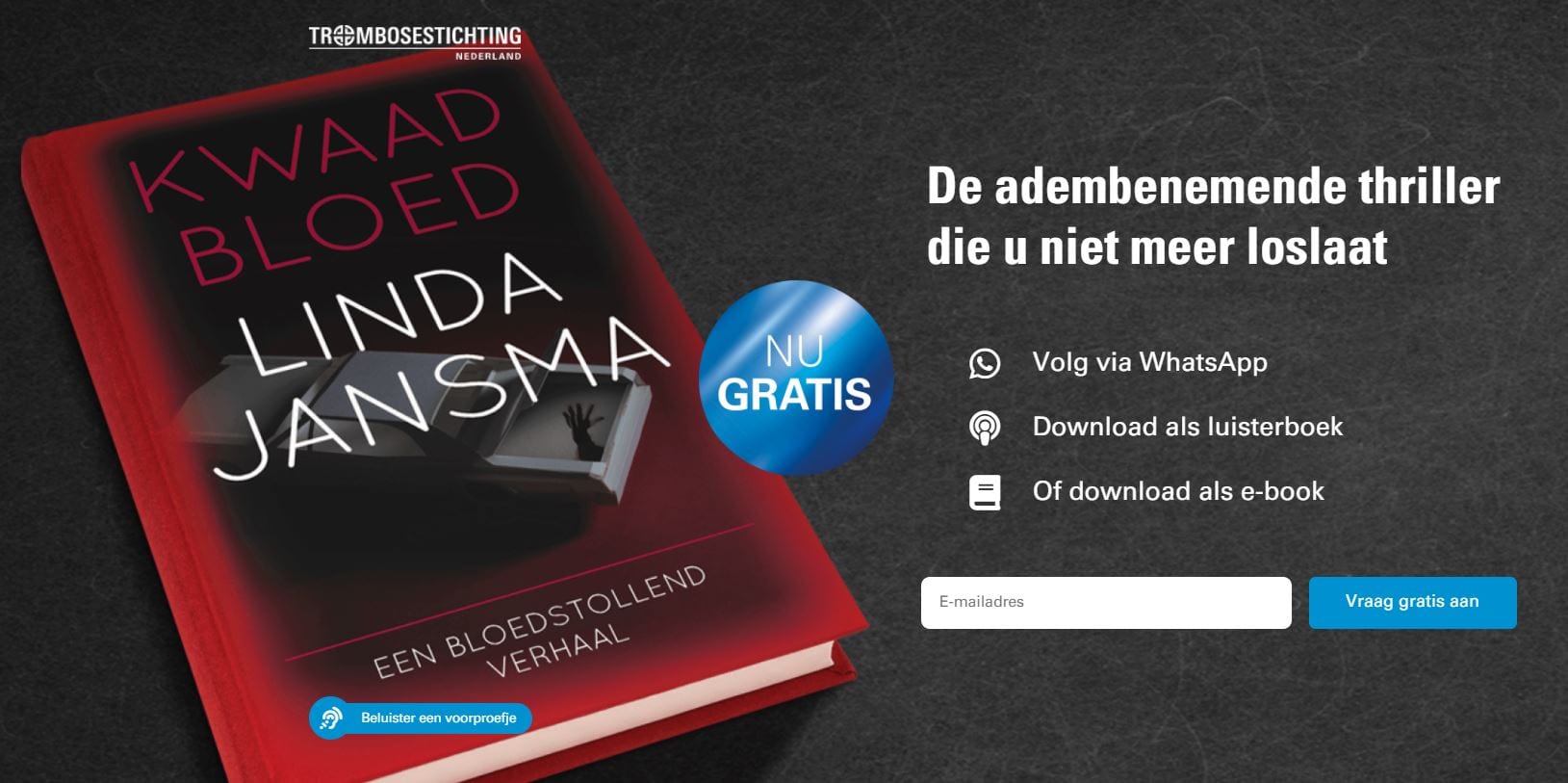 Dutch Thrombosis Foundation
The Dutch Thrombosis Foundation is dedicated to a thrombosis-free future. By providing clear educational information, they reduce the risk of thrombosis. The Dutch Thrombosis Foundation funds research into the development of better medication and treatment for thrombosis. In this way, they are helping people with thrombosis live better lives.
Every hour 11 people in the Netherlands develop a thrombosis. Per day, an average of 43 people die as a result of thrombosis – about three from thrombosis in the lungs, legs, arm or lower abdomen, and 40 from a thrombosis in the brain or heart.
This has to stop! More research is needed to reduce the number of thrombosis patients and we can help the Dutch Thrombosis Foundation with this goal!

This is how you effectively deploy lead generation
Learn from three real-life examples
Today, you watch a video on Facebook about animal suffering. Tomorrow, you'll see an ad for an animal rights charity to sign a petition, download a brochure or take a quiz – something the organization can use to get your contact details. In this way, you have become a lead. The charity can contact you with a request, an offer or a service.
In this whitepaper, we will highlight a few real-life examples of online lead generation for you.