Personalised calendar mailing for St. Joseph's Indian School
How do you stay top of mind for your donors?
Every year, we test new and exciting fundraising mailings for St. Joseph's Indian School that we expect to perform well among the older target audience. In 2020, we conducted a successful test with a calendar mailing, which was subsequently included in the annual plan for 2022. We handled the design, production, data selection, printing, insertion and delivery via mail.
Personalised calendars
In November, donors received an attractive calendar for 2023 with their name printed on the front. When they hang the calendar in their kitchen or living room, it serves as a year-round visual reminder of St. Joseph's Indian School.
The package was sure to catch the eye when it was delivered, because the A4-sized calendar came in a large envelope together with a personalised letter and a giro collection form.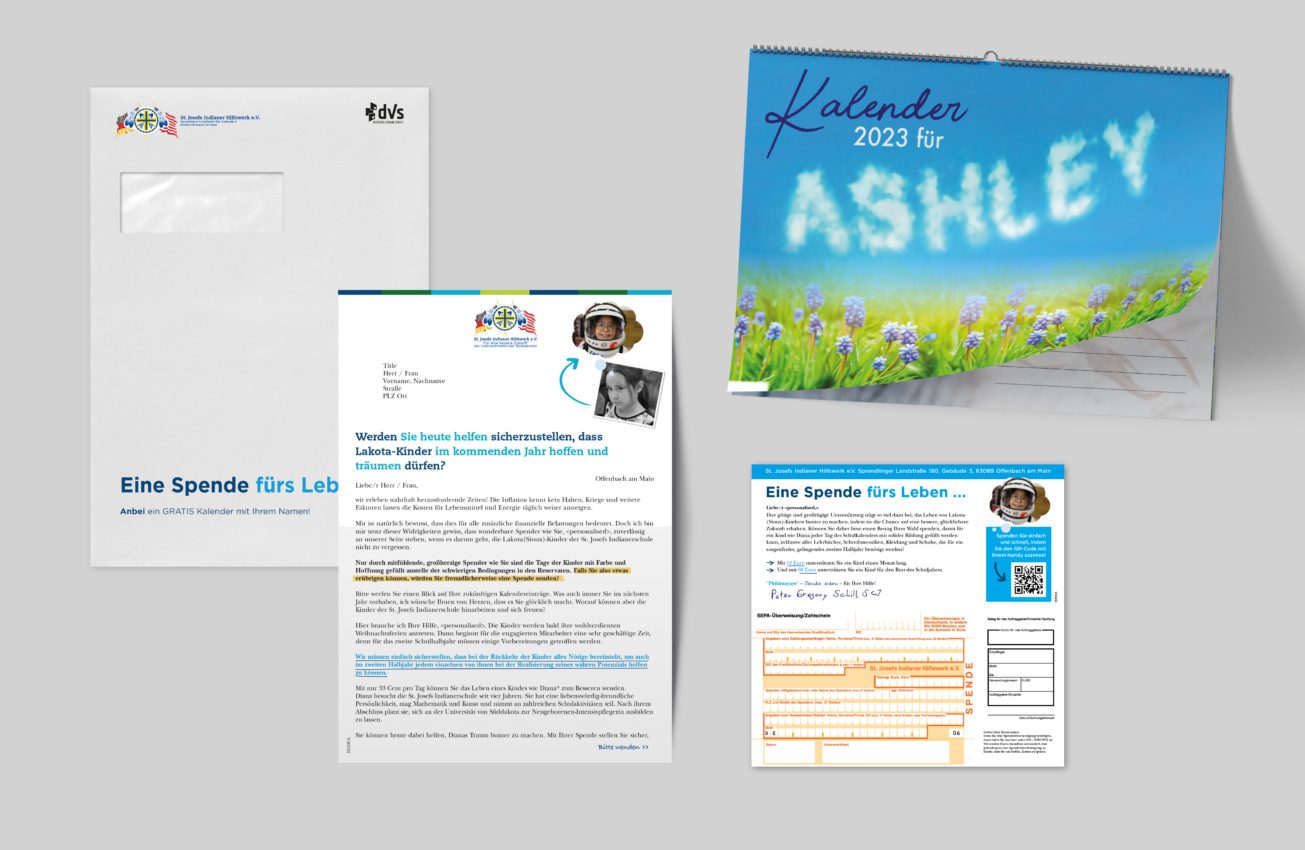 Results of the campaign
Although a calendar mailing costs more than a standard mailing, the returns per donor are higher than average. The campaign achieved a response rate of 11.5% and an average donation amount of €22.25.
About St. Josefs Indianer Hilfswerk e.V. and Mindwize
St. Josefs Indianer Hilfswerk e.V. and Mindwize have been working together for 20 years. In this time, the donor database has grown to 508,000 donors, of which 188,548 are active donors. The association raises funds for the St. Joseph's Indian School in South Dakota, USA.
Poverty and child abuse are serious problems in Native American reservations. The St. Joseph's Indian School has helped children and families in need since 1927. Every year, more than 200 Lakota (Sioux) children receive education and accommodation – all at no cost to their families. The children learn to regain pride in their culture by learning the Lakota language, studying the Native American culture, and reconnecting with their families.
Did you know that direct mail is the largest source of major donations and legacies?

Discover the 5 reasons why direct mail is so relevant!
Research shows that direct mail has added value alongside digital communication.
At Mindwize, we love direct mail. Not least because it is still effective in recruiting donations and retaining donors. The facts of our research speak for themselves.
Download this white paper and discover the 5 reasons why direct mail is so relevant!