Top 5 fundraising trends
Thanks to a study conducted in 2019 we have gained valuable insight into the donation behaviour of donors. Participating charities made their (private) donation data available for research. We used this to analyse sector trends and develop insights into donation types, channels and other donor characteristics. Fundraisers can now use these insights to make smart, data-driven decisions for their fundraising strategies.
July and November are now the most popular recruitment months
For years, December was the month to raise funds for charities. This position has now been superseded by July and November. This is the most remarkable result of our third research study. Additionally, Direct Mail remains an important channel and we still ignore middle donors too much.
Read the top 5 fundraising trends here:
1. Direct Mail still a key channel
Despite a slight drop in revenues year-on-year, Direct Mail is still the channel that receives the most – 21% – revenue. This percentage is much higher for recruiting one-off gifts: 85%. Donor retention (maintaining donor relationships) is also considerably higher in percentage terms with Direct Mail when compared to other channels such as Face to Face, Online and Telemarketing. Donors recruited through Direct Mail become loyal donors.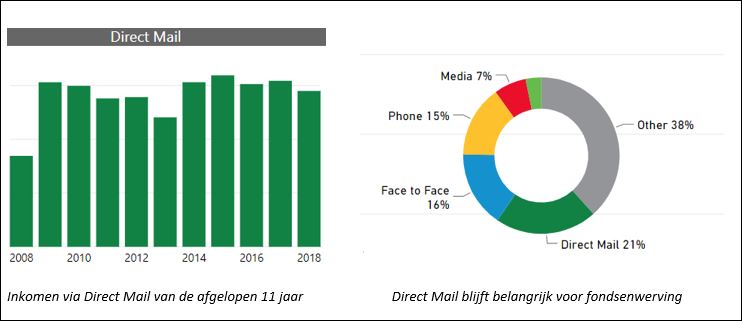 2. July and November instead of December
For the past two years, December has not been the most popular month for recruiting new donors: now July and November are the top months. September remains the least favoured recruitment month. Would you like to test and find out if this is still the case?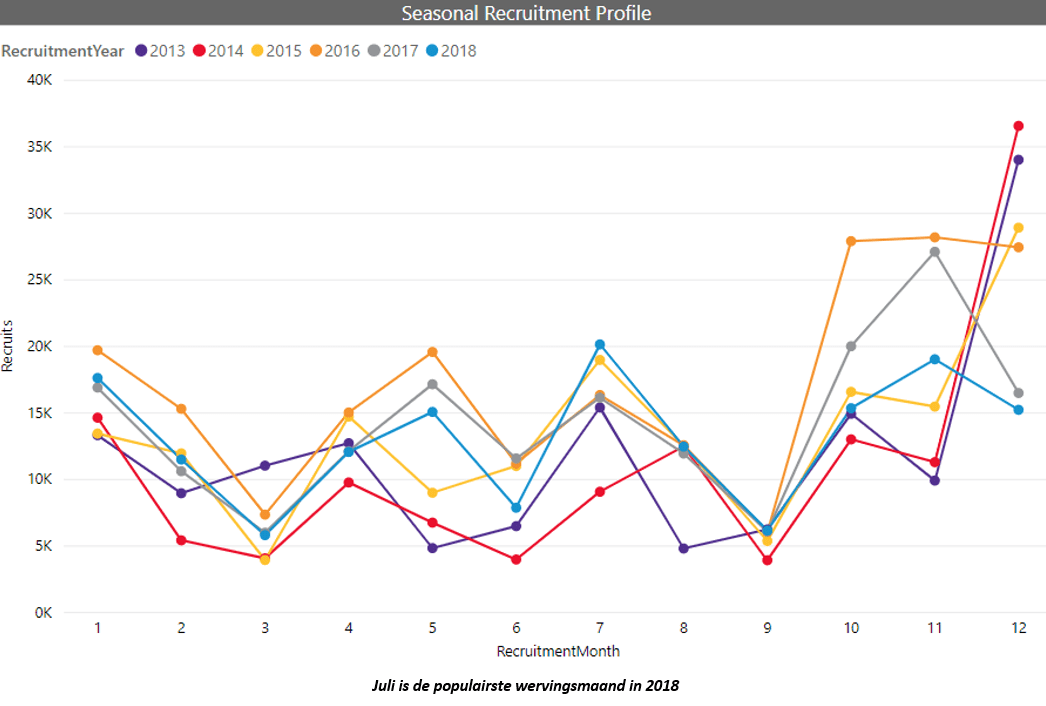 3. Face to Face: good for growth
For years now Face to Face has been the foremost channel for recruiting new structural donors. In recent years, its share has continued to increase. The question remains however, whether these donors are loyal ones. This is not the case when compared to structural donors recruited through Direct Mail or Media (radio, TV, inserting). In these channels, 63% of donors are still donors after a year; with Face to Face the percentage is 48%. However, the Face to Face retention remains stable, while it is declining with Direct Mail and Media.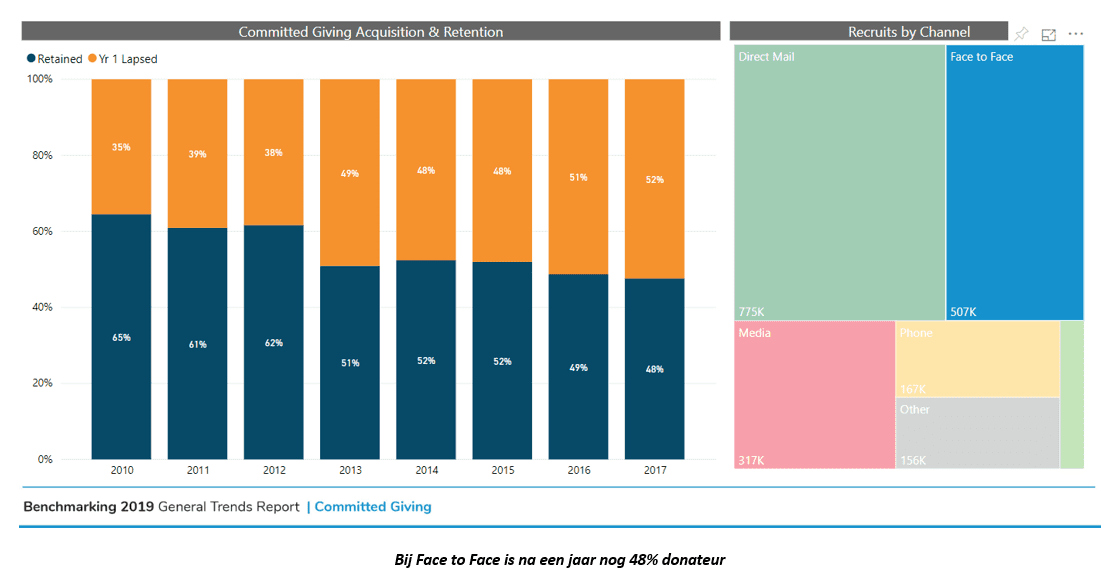 4. Middle donors: the 'forgotten' target group?
Compared to major donors, income from middle donors is lagging behind. Is this group getting enough attention? Research shows that major donors are mainly new donors; middle donors are existing donors. This makes it easy to create a strategy for this group. Direct Mail is an obvious choice. After all, this channel provides by far the most income from major and middle donors.
In addition, research shows that we still know too little about our middle and major donors. More knowledge – age, gender, motivation – makes it more likely that they will continue to give generously. A survey is a good way to find out more.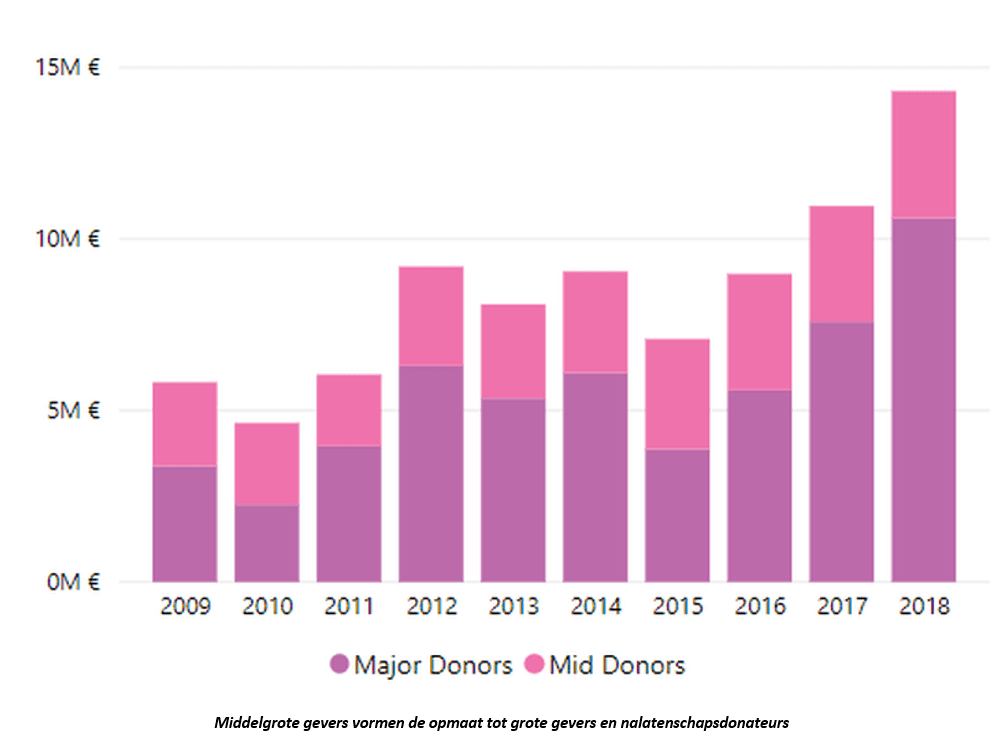 5. The importance of a responsive website
Online donations and website visits are also extensively covered in the survey. One of the most striking results is that the mobile phone has become the most popular device for visiting charity sites. It is therefore crucial that websites and donation processes are optimised for mobile phones. Nonetheless, donors still use the PC the most to give. This is usually preceded by several contact moments through different devices.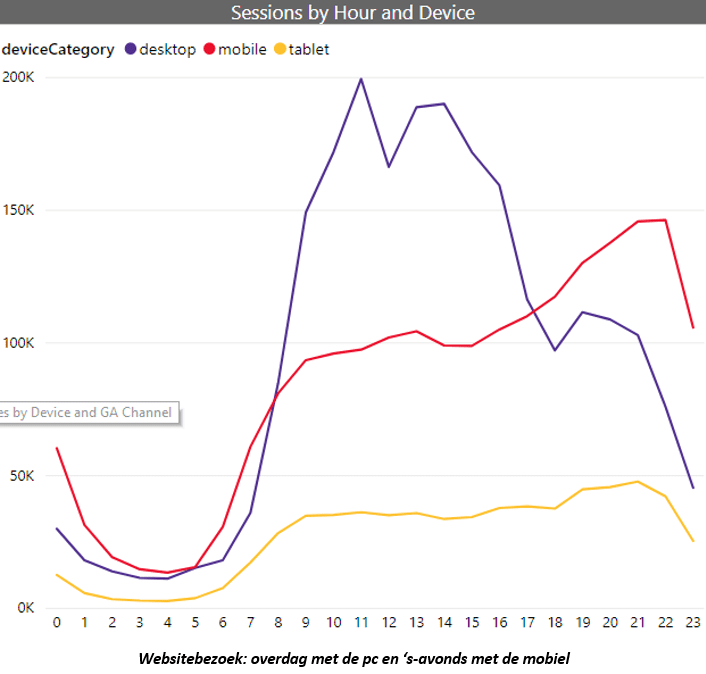 How do your own donors give?
Are you interested in knowing more of these insights? Or would you like to know how the giving behaviour of your own donors relates to the market? Then please contact us.