10 tips for an envelope – you can use straight away

Fundraising is direct marketing. And in direct marketing, the envelope only has one purpose: to be opened. Here are 10 tips to get your envelope opened straight away.
1. Start with an envelope without a message
This gives excellent results, especially with existing donors. And the rule is: use a blank envelope, unless you can come up with something better to get the envelope opened.
2. Arouse curiosity
An envelope with text that arouses curiosity is asking to be opened. One that is renowned is this text for a psychological magazine:
"Do you close the bathroom door, even when you're the only one home?"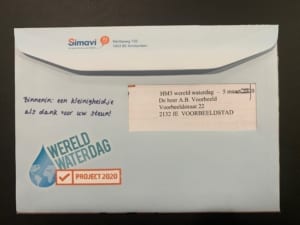 Envelope Simavi HM3 – 5 March 2020
3. Only put a single message on your envelope
The sole purpose of your envelope is to get it opened. Don't attempt to put your whole story on the envelope already. Instead challenge, ask a question, arouse curiosity, give a striking fact, use a strong quote.
4. Use both sides of the envelope
There is a 50% chance that your envelope will land face down on the doormat.
5. Show your premium
If you have a premium, show it on the envelope. Or use an extra window. This increases the chance of it being opened.
Envelope Simavi HM9 – 15 October 2020 – Premium: Christmas Cards
6. Send a premium that you can feel
The time-honoured bulge in the envelope. It still works just as well as ever.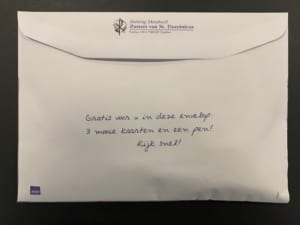 Envelope Stichting Maryknoll zusters van St. Dominicus HM5 2020 – Premium: 3 cards and a pen
7. Keep changing
Don't use the same type of envelope every time, but get noticed. Large, small, multiple windows, colours. Different paper. Different message.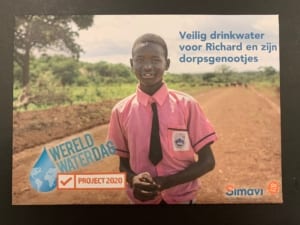 Envelope Simavi HM3 – 5 March 2020
8. Are the results of your recruitment mailing declining?
In the first instance, change the envelope. A different colour alone can boost the response.
9. Use a three-dimensional mailing
A box will always be opened. But think about the shape (for example a tube), the letter must be easy to remove and remain legible.
10. Personalise your envelope
Mail that looks like it was sent by a real person is put on the reading pile, not on the ad pile. For example, use a handwriting font or a typewriter font, postage stamps. A closed envelope. It all helps make your mailing more personal.
We have written a book '99 Tips for more Donations'  for all fundraisers in the Netherlands. Practical tips that can be immediately put into practice.
Based on our more than 25 years of experience, we have written a practical guide for fundraisers. We explain clearly which techniques positively influence the response.
Over the years we have sent countless direct mailings and we have certainly learned a lot. We have learned which techniques can increase the response to a larger or smaller degree. We have packaged a number of these techniques for you in 99 tips – and 10 more! – for direct mail, email and landing pages. Tips that you can apply immediately. We hope they will help you in your daily work and as a result raise the response to your next fundraising campaign.
99 tips for more donations
This book is a practical guide for all fundraisers. Download the book and apply the tips today!
More fundraising tips
Easy but effective ways to improve your fundraising