5 tips to improve the quality of your donor data
Good data gives you better results
The quality of data is key to fundraising. Data from donors gives insight. It provides the information you need to achieve better results. It is therefore important to handle data with care. Good storage and regular updates are the real deal.
Donors have expectations. But do you know what they are? Different situations require different decisions. But do you have enough insight? Good communication requires knowledge of your target group. Do you know what you need to know?
All processes run better with the right data. But how do you improve the quality of your data?
5 tips to improve the quality of your donor data:
1. Research what you need
What information does your organisation need to achieve its goal? This might be complete address information, including telephone number and email addresses. But it may also be recording when and how donors were approached. And of course, you want to know what type of communication someone has responded to and what their response was. Which topics interest them? What kind of data are you looking for to create new opportunities?
2. Define guidelines for how you record data
Once you know what data you need, the trick is to store it and make it accessible in your database in such a way that the entire organisation benefits from it. Data works best when it is entered and recorded in the same way by everyone. This lets you create good customer profiles, which improves your marketing and communication activities.
Once you know what data your organisation needs and how you want to record it, it needs to be clear whether your current systems can store and process this data. Sometimes a simple CRM solution with a CRM system is sufficient, but sometimes you will need a different solution.
How can you effectively improve the quality of your data? Validation systems enrich your data with the help of various source files. But is that enough? Or do you also have the option of enhancing your customers' interests through website statistics or reports on email marketing?
5. Assess who can help you
Finally, determine which other players you could engage to help improve your organisation's data quality. Organisations like Mindwize can help you enrich donor data, record communication moments and make selections for a telemarketing, direct mailing or email campaign. This increases the relevance of your communication and the return on your efforts.
All processes run better with the right data. Would you like to know more about the quality of your data and your donor data? Then please contact us!
Based on our 30 years of experience, we have written a practical guide for fundraisers: '99 Tips for more Donations'. We explain clearly which techniques positively influence the response.
Download our 99 tips and read more about: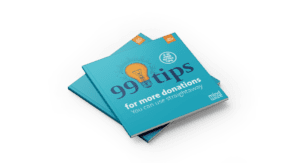 Tips for a successful newsletter
Tips for creating a good story
Tips for testing your fundraising program
Tips for an envelope
And much more…
99 tips for more donations
This book is a practical guide for all fundraisers. Download the book and apply the tips today!