Five tips for a successful newsletter
Your donor address file (your house file) is the lifeblood of your organisation. Handle your address file with care. Prevent your donors from feeling that they are just a "wallet" to you. Do not send letters too often and alternate requests for a donation with a newsletter and thank you letters.
Treat your donors with respect and they will continue to support your organisation.
Here are five tips for a successful newsletter
Regularly sending a newsletter is an excellent way to inform your supporters and keep them motivated for a subsequent donation request. At Mindwize we know how to make a good newsletter. Below are 5 suggestions you can consider when compiling your next newsletter.
Use one of the main goals of your organisation and use different stories, testimonials and responses from donors and volunteers to clarify the importance of that goal.
Use your newsletter to introduce your organisation's staff. Show something about their background and motivation for working for your organisation. This will strengthen the bond with your supporters.
Use the story of a loyal donor to thank him or her and to encourage other donors to keep donating in the future.
Charities have gained a wealth of knowledge and experience through their work. Share this knowledge with your supporters. Consider, for example, a Christian organisation that does missionary work abroad. A church can make good use of these experiences to reach people of foreign origin in their own country. In this way you can make your newsletter really valuable.
Your supporters want to know if you are spending their money on the causes they contributed to. Be transparent about financial matters and show that you are worthy of your donors' trust.
Based on our 30 years of experience, we have written a practical guide for fundraisers: '99 Tips for more Donations'. We explain clearly which techniques positively influence the response.
Download our 99 tips and read more about: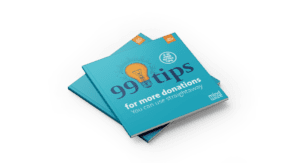 Tips for a successful newsletter
Tips for creating a good story
Tips for testing your fundraising program
Tips for an envelope
And much more…
99 tips for more donations
This book is a practical guide for all fundraisers. Download the book and apply the tips today!