Thank your donors during 'Thankuary'
This word is the best way to start 2023: 'Thankuary'. It was conceived by the gents at Better Fundraising Company. They came up with Thankuary.
Thankuary is an opportunity for you to focus on thanking your donors. You have asked your donors for a donation several times in the recent past. And now is the time to thank them for that support.
Thankuary is good for your donors, but certainly good for you too. It feels good to speak to and thank your donors.
Especially if you approach it with your whole team, management and board.
Ultimately, it is good for your 2023 results. A warm thank-you means better relationships. And a better income.
Thanking your donors is very important. Particularly in these times of crisis, it is important to let your donors know they are important to you.
A Thankuary need not be big. Here are a few tips:
Send a handwritten card.
Produce a special 'thank-you newsletter 'in which you celebrate the successful contributions from your donors.
Organise a 'Thank-a-thon'. Have everyone in the organisation call a few donors. Everyone, that includes the board and management. These are quick telephone calls with a big impact.
A thank-you direct mailing. With a real photo.
Ensure you stand out. That it is different to what you normally send.
For your top donors: a bunch of flowers, a personal visit.
Thank your donors for the important people they are.
Surprise them with a lovely story about the difference their donation made.
It is about the nice things they do. Not the nice things you do.
Tell them how their support makes you feel. How much you appreciate them.
How this benefits you?
You stand out. Because no one has ever thanked them like this.
Connectedness: because the whole organisation participates.
They feel engaged. They now know they are an important partner in the solution.
They feel valued.
There is a greater likelihood of them making a subsequent donation.
There is a greater likelihood of them considering you when they draft their last Will and testament.
There is a greater likelihood they will give more.
And this is important: they give less to charities in times of crisis. But there is now a greater likelihood of them keeping you as 'one of their charitable causes'.
We can think of no better way to start your fundraising year.
Good luck! 🍀
Based on our 30 years of experience, we have written a practical guide for fundraisers: '99 Tips for more Donations'. We explain clearly which techniques positively influence the response.
Download our 99 tips and read more about: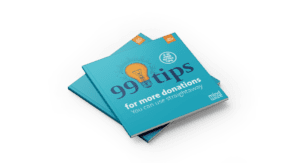 Tips for a successful newsletter
Tips for creating a good story
Tips for testing your fundraising program
Tips for an envelope
And much more…
99 tips for more donations
This book is a practical guide for all fundraisers. Download the book and apply the tips today!